Digital Transformation Success Secrets!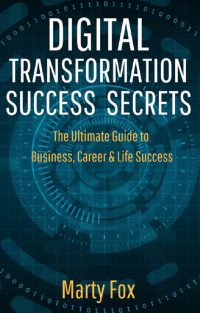 Millions of businesses and careers are being disrupted by new digital technologies, strategies and business models in positive and negative ways. A popular new book reveals the simple proven secrets to creating business, career and life success.
Marty Fox, a successful entrepreneur, corporate leader and digital thought leader says, 'I  became frustrated watching friends needlessly have their businesses and careers disrupted. I knew avoiding digital disruption and becoming the disruptor was well within in their grasp. I wrote a simple and straightforward book anyone can use to achieve business and career success, avoid failure and have fun with amazing new life-changing technologies.'
In 'Digital Transformation Success Secrets: The Ultimate Guide to Business, Career and Life Success', Fox demystifies emerging new technologies including AI, 3D Printing, Robotics, Drones, Blockchain, Virtual and Augmented Reality and Quantum computing in simple understandable terms. He shares hundreds of examples how each technology is being applied to business, career and personal success. He says, "simplifying technology is my passion, but that is not the book's secret sauce. Great technology alone will not lead to business or life success. In the book I share proven success habits, motivational tips, true stories, digital business models and winning processes that have enabled me and other people to succeed in startups and enterprise organizations. You do not need any technical experience to benefit from my book."
Executives and entrepreneurs will learn how to disrupt, how to prevent being disrupted and how to discover hidden digital opportunities and threats. Employees, career-seekers and students will learn what works in business, what does not work and how to supercharge their careers and lives. In the book he reveals:
How to become digitally savvy in days; not weeks, months or years!

22 success habits that will transform any business and career.

7 habits that can lead to business and career failure

How to generate an endless supply of innovative ideas that can reinvent your business and supercharge your career

The transformative power of digital technologies in simple easy-to-understand terms

How tiny adjustments can transform industrial-age organizations and struggling startups into new-age digital disruptors

175 amazing digital companies and products that can provide you and your customers with better, faster and cheaper solutions. Although some are little-known and 'flying-under-the-radar', they have the potential to become near-future digital giants.

Hundreds of examples of how smart companies are using digital technology to build a smarter and better world

Case studies of digital entrepreneurs who cracked the digital code and how they did it
About the Author:
Marty Fox is a successful serial-entrepreneur, corporate director for a 16 billion dollar company, digital thought leader and author of 13 best-selling business and technology books. He enjoys demystifying emerging technology and sharing the habits, mindset, motivation and processes that create success and happiness.
Marty writes from success in the real-world of start-ups and corporations.
Directed a three person digital software startup to a multi-million dollar sector leader using grass roots marketing and zero advertising
Developed niche web portal for a grandmother that within 6 months became a world-wide sensation using grass roots marketing and zero advertising. The site and grandmother were gobbled up by a welcoming acquirer – making the grandmother very happy!
Created an eCommerce solution during evenings and weekends that transformed many simple web sites into profitable revenue engines
Created many innovative digital software solutions and business strategies for large global companies that created shareholder value
Marty shares what works and what does not in the real-world through his writing, podcasts, speaking and mentoring. All of his books have been written while working in business and technology which allows him to share first-hand stories of success and failure rather than 3rd hand accounts of what might work.
Marty's Special Offer:

 A free for any students and people that cannot afford to purchase it. The material in the book can make a positive impact on lives and he wants to 'pay-it-forward' so  everyone has the opportunity to enjoy success and happiness. If you cannot afford to buy it please email him.